Vangelis Papathanasiou (Vangelis) (1943- )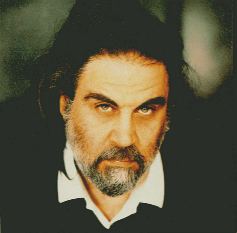 Music Academy Award (original score) in 1981 for the film: "Chariots of Fire"
His biography:Born: In Volos, Greece. 29/March/1943
The musical talents of Vangelis first became obvious at the age of four. His parents tried to encourage him to study with a professional teacher, but he did not respond well to formal education as he was generally unwilling to follow instructions.
Vangelis explains: "I have always felt that you should not borrow knowledge from others, because personal experience and development are of utmost significance."
After leaving school he and some friends formed a group called Formynx. In the early 60s this band packed Greek stadiums with thousands of music hungry fans. Vangelis was virually the first artist that brought pop music to his home country. Formynx was soon Greece's most popular musical group.
During the Greek upheaval in 1968 Vangelis moved to Paris. Together with Demis Roussos and Loukas Sideras he formed a band called Aphrodite's Child. This group scored an immediate world wide hit with their first release, Rain and Tears.
Aphrodite's Child went on to release several further European number-one singles over the course of three years. The band split up after their controversial double album. Vangelis remained in Paris for a while, recording a couple of film soundtracks for the French director Frederic Rossif (among these L'Apocalypse Des Animaux and La Fete Sauvage and giving an amazing performance at the "Olympia" to promote his first solo album, Earth, on the Philips label.
In 1974 he moved to London in the midst of a storm of rumors that he would be joining the group Yes as Rick Wakemen's replacement on keyboards. After rehearsing with Yes for several weeks Vangelis left, explaining that his musical theory and directions and the group's were too far apart. It was during his stint with Yes that he and Jon Anderson became friends and collaborators.
Vangelis soon signed a recording contract with RCA, and assembled his own 24 track studio known as Nemo Studios. Nemo Studios is near London's Marble Arch, and is referred to by Vangelis as his laboratory. The first album cut here was Heaven and Hell. This first album on the RCA label, a collection of extraordinary and forceful music, catapulted him to the forefront of popular music in Europe and the United States. To this date, all albums that followed Heaven and Hell were equally internationally acclaimed and enormous sellers. Vangelis achieved an array of awards, among them an Oscar in 1982 for the soundtrack of the film Chariots of Fire.
The music of Vangelis is too diverse to be described as either pop, rock, classical, jazz, or new age. Explaining his music, Vangelis says:
"All I try to do is let people know what I think through my music. I just bring the music to you and it is up to you to do what you want with it.
Taken from the Greatest Hits Album (1981).
A small mp3 of his work; theme of Bladerunner

Other relevant links:
AMG All Music Guide: Evangelos Papathanasiou